---
Dear spray tan customers
Unfortunately, our tanning service is temporarily unavailable until 2024. Thanks for your understanding!
---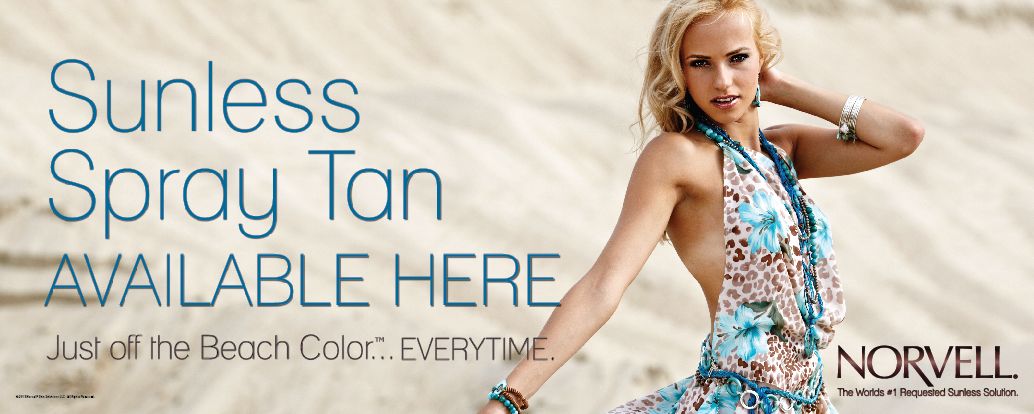 Get a beautiful and safe sunless tan. Look like you've just stepped off the beach all year round. Avoid wrinkles, skin sagging and the risk of skin cancer from the sun with our super-fast, natural looking spray tan.
Prices and Services
Before Getting Your Spray Tan
Prior to your spray tanning session, please do these things:
Take a shower at least 8 hours before your tanning session (if there is a lot of water in your skin, the chemistry won't work properly).

After the shower, please don't apply any moisturizer. If you have dry and / or sensitive skin type, you can apply a moisture toner and / or a light texture body lotion.

It's best to exfoliate your skin before the tanning session.

If you need hair removal such as shaving or waxing, please do it at least 24 hours before the session.

Please bring or wear dark and loose clothing with you. It's best not to wear socks or tights.

If you want to wear your swim wear, please bring it with you, or I can give you disposable underwear.
In-Salon Services
| Service | Price |
| --- | --- |
| Face only | ¥2,000 |
| Half Body | ¥4,000 |
| Full Body | ¥6,000 |
Mobile Spray Tanning
Get a perfect tan in the comfort of your home!
We can give you an incredible, natural-looking tan in just minutes! Perfect for brides, prom parties, before holidays, photo shoots and any other special occasions!
I will travel to you with a pop-up spray tent. No mess! No orange tint! Look great, feel great! Our solution is 100% organic. Gives you a beautiful sun-kissed look!
¥5,000 per person
Kindly note that the following conditions apply:
A minimum of 4 people;
Parking fees will apply; and
Provided that the destination is within Minato-ku, Shinagawa- ku, Shibuya-ku or Meguro-ku, there is no additional therapist travel fee.
Frequently Asked Questions
Are spray tans safe?
Absolutely! They can actually be beneficial to your skin since the products we use contain aloe vera for hydration, caffeine extract for skin firming benefits and copper for moisturising and anti-ageing. Whilst the sun's rays and tanning beds contain harmful UV rays which can lead to wrinkles, saggy skin and sometimes skin cancer, spray tanning is 100% safe, not to mention fast, even and natural looking.
What is the benefit of having a spray tan done professionally? Can't I do it myself at home?
We will carry out your spray tan fast and evenly to create the most natural look possible. Our therapists have had years of experience with spray tan application to give you a beautiful sun-kissed look.
How do self tanners work?
Self tanners create a tanned appearance by developing a brown colour on the surface of the skin. The effect usually lasts 5 to 7 days and begins to fade as the top layer of the skin naturally exfoliates.
How many days will a spray tan last?
The length of a spray tan depends on the skin's natural exfoliation process and on the client's skincare regime followed before and after application.
Our therapists will advise clients on the best skincare regime to get the most from your spray tan. Exfoliating prior to a sunless tanning application and keeping skin moisturized afterwards are essential.
On average, our spray tans last 4-7 days. An application received at a spa will last longer than an at-home application as there is usually a higher percentage of DHA (the ingredient that creates the tan colour) used.
How long should I wait after using a spray tan before I shower?
This depends on how dark you want your colour to be. We can discuss during the session.
Will the spray tan from a spray tanning application come off on my clothes?
We recommend that you wear loose fitting, dark coloured clothes on the day you come for your spray tan. Occasionally the colour from the tan may come off on clothes, but since the spray tan is water soluble, it can be removed easily by washing.